Professional Concrete Mixer Manufacturer

Brick Machine
---
PE10-15 Automatic Brick Making Machine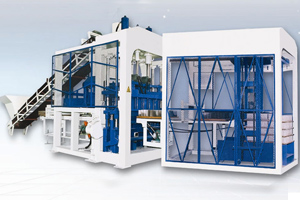 The pressure head of PE10-15 automatic brick making machine adopts triplex cylinders structure. Two big cylinders supply proportional pressure and the small cylinder rapidly goes up and down.
The material rack of this
brick making machine
uses screw arbor to synchronously go up and down, which brings convenience to the rising and falling of working stable of skip car.
The sliding bush of this
automatic clay brick making machine
uses screws to fasten, which is convenient to the replacement of copper sheathing.
The mould unloading of this brick making machine adopts gear and rack. Gear and rack are forced to move synchronously. The synchronization performance is good, which makes precision accuracy of mould unloading much higher.
The material feeding car of PE10-15 automatic brick making machine adopts triangular wheels and rails to make material feeding car move firmly.
The vibrating system makes full use of hydraulic variable quantity and varying voltage to promote vibrating case be shaped with high frequency and arrange materials with low frequency.
Collocation of PE6-15 normal brick machine:
50T cement silo, screw conveyor (φ219×6m), cement weighing scale, pneumatic system, batcher (3×3m3), JS750 concrete mixer, PE8-15 concrete brick machine, mould, belt conveyor, hydraulic station, PLC control system, pallets feeder, blocks conveyor, automatic stacker, manual hydraulic forklift, wearing spare parts, auto. color feeding system, belt conveyor II, ZSJ150 pigment mixer, extra normal mould, extra interlock mould, bamboo pallets (1300×860×25mm), wrapping machine system.
Specifications and parameters:
| | | |
| --- | --- | --- |
| Item | Specification(L*W*H) | Quantity per hour(PCS) |
| Hollow block | 390*190*190 | 1700-1800 |
| Solid block | 240*115*53 | 9500-10500 |
| Porous block | 240*115*90 | 4050-4860 |
| | | | |
| --- | --- | --- | --- |
| Host machine dimension(mm) | 3700*2600*3150 | Host machine power | 45kw |
| Moulding area(mm) | 1200*820 | Vibration force | 75kn |
| Moulding period | 15-25s | Factory area | 800m2 |
| Pallet size(mm) | 1300*860*30 | Capacity | 80kva |
| Host machine weight | 13.8T | Mixer model | JS750 |
---
Do not hesitate to contact us ,we value your message