Professional Concrete Mixer Manufacturer

Brick Machine
---
PE8-15 Concrete Brick Machine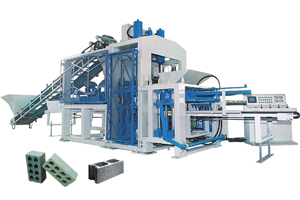 PE8-15 concrete brick machine adopts the combination of base vibration and mold vibration to ensure the high density and the well-distribution of the brick.
By tamping vibration and transmitting to the layer board, base vibration makes the concrete and mixture in molding box quickly and densely take shapes. Mold vibration refers to moulding box taking transverse vibration and vibration force is big, which realizes the three-dimensional vibration effect and ensures advantages of this
cement brick machine
, like short molding cycle, little cement consumption, high quality of block and others.
This
cement brick making machine
also adopts integration of mechanism, electricity and hydraulic, PLC computer control system, hydraulic drive, mechanical vibration and hydraulic pressure molding, which makes the density of bricks be better and saves cement consumption.
Every production step is monitored. This cement brick machine is able to realize the interruption of production and fault detect and output statistics, which makes sure that bricks have high density and high efficiency.
Collocation of PE6-15 normal brick machine:
50T cement silo, screw conveyor (φ219×6m), cement weighing scale, pneumatic system, batcher (3×3m3), JS750 concrete mixer, PE8-15 concrete brick machine, mould, belt conveyor, hydraulic station, PLC control system, pallets feeder, blocks conveyor, automatic stacker, manual hydraulic forklift, wearing spare parts, auto. color feeding system, belt conveyor II, ZSJ150 pigment mixer, extra normal mould, extra interlock mould, bamboo pallets (940×860×25mm), wrapping machine system.
In order to make
concrete brick machine
be in good technical condition, ensure the reliability, improve work efficiency and prolong the service life, it is necessary to attach importance to technical maintenance of concrete brick machine.
A series of technical measures should be taken, like cleaning, fastening, lubricating, adjustment and relevant examinations.
Specifications and parameters:
| | | |
| --- | --- | --- |
| Item | Specification(L*W*H) | Quantity per hour(PCS) |
| Hollow block | 390*190*190 | 1280-1440 |
| Solid block | 240*115*53 | 6283-7020 |
| Porous block | 240*115*90 | 2880-3240 |
| | | | |
| --- | --- | --- | --- |
| Host machine dimension(mm) | 3450*2250*2950 | Host machine power | 33.9kw |
| Moulding area(mm) | 800*820 | Vibration force | 60kn |
| Moulding period | 15-20s | Factory area | 600m2 |
| Pallet size(mm) | 860*940*20/25 | Capacity | 50kva |
| Host machine weight | 12.5T | Mixer model | JS500/JS750 |
---
Do not hesitate to contact us ,we value your message