Professional Concrete Mixer Manufacturer

Brick Machine
---
PE9-15 Automatic Brick Machine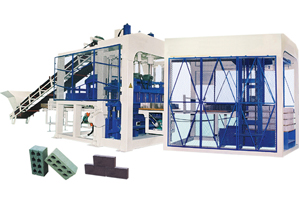 PE9-15 automatic brick machine adopts imported electrical equipments and hydraulic components, which can make sure failure-free operation. The advanced random measuring control system can realize long-distance control and fault diagnosis. Dozens of mechanical movement adjustment of different products does not need professionals to operate. Choose the adjustment according to menu. This
hydraform brick making machine
is able to realize man-machine conversation and full-automatic operation.
PE9-15 automatic brick machine is featured by low feeding frequency, high vibration frequency, big head cylinder. Base vibration and mold vibration ensure concrete's full activation and exhaust within 2-3 seconds, which makes sure high density and high strength of bricks.
The feeding hopper of this hydraform brick making machine is swing discharging device and can make materials be evenly sent into molding box.
PE9-15 automatic brick machine is able to make the most use of effective vibration and deliver the vibration force to molding box in balance, which greatly improves the density of products and service life of molding box.
Brick machine price
varies for different kinds of brick machines. Inquire today.
Collocation of PE6-15 normal brick machine:
50T cement silo, screw conveyor (φ219×6m), cement weighing scale, pneumatic system, batcher (3×3m3), JS750 concrete mixer, PE8-15 concrete brick machine, mould, belt conveyor, hydraulic station, PLC control system, pallets feeder, blocks conveyor, automatic stacker, manual hydraulic forklift, wearing spare parts, auto. color feeding system, belt conveyor II, ZSJ150 pigment mixer, extra normal mould, extra interlock mould, bamboo pallets (1350×720×25mm), wrapping machine system.
Specifications and parameters:
| | | |
| --- | --- | --- |
| Item | Specification(L*W*H) | Quantity per hour(PCS) |
| Hollow block | 390*190*190 | 1458-1620 |
| Solid block | 240*115*53 | 8100-9000 |
| Porous block | 240*115*90 | 4050-4500 |
| | | | |
| --- | --- | --- | --- |
| Host machine dimension(mm) | 3560*2600*2950 | Host machine power | 42kw |
| Moulding area(mm) | 1280*600 | Vibration force | 70kn |
| Moulding period | 15-20s | Factory area | 800m2 |
| Pallet size(mm) | 1350*720*25/30 | Capacity | 80kva |
| Host machine weight | 13.5T | Mixer model | JS750 |
---
Do not hesitate to contact us ,we value your message