Professional Concrete Mixer Manufacturer

JS Series Concrete Mixer
---
JS Cement Mixer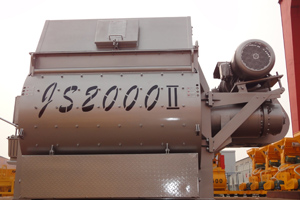 Definition of JS Cement Mixer
JS
Cement Mixer
is double axle compulsory concrete cement mixer, also be called JS
concrete mixer
. JS cement mixer is made up of mixing cylinder, mixing device, transmission, hydraulic pump station, automatic lubricating device, belt cover and so on. JS cement mixer can work independently, and it also can form a variety of mixing station with PLD series of batching plants.
JS
cement mixer
is the main
cement equipment
and belongs to engineering concrete cement mixer. JS cement mixer is mainly used in concrete batching plant, so once JS cement mixer occurring any accidents will affect the operation of entire concrete batching plant. So concrete mixer users need pay more attention to the maintenance and inspection work of JS concrete cement mixer.
In each week, concrete mixer users need inspect the JS compulsory concrete mixer: inspect the wire rope of concrete mixer and spread some butter on the surface of wire rope. Replace the wire rope after the wire rope being worn to a certain extent; Check the oil in concrete mixer gearbox and replace or fill oil if necessary. Keep the water supplying system of concrete mixer clean to avoid congestion. Inspect and clean the water sucking valve; check whether the rocker arm of travel switch is loose, if loose, make necessary adjustment; check whether the blades, connecting bolts of supporting arm are loose and adjust the gap between blade and cylinder wall, the maximum space of JS double axle forced type concrete mixer is 5mm. If necessary, tighten the connecting bolts and other parts.
Characteristics of JS Cement Mixer
JS cement mixer is equipped with multiple shaft end sealing protection device and wind pressure sealing protection device to effectively avoid leakage.
JS cement mixer has unique monitoring system, which can monitor working conditions of reduction box, discharging pump and electrical lubricating pump.
JS cement mixer has four separate pump core, which respectively feeds oil to four axial heads directly without using by-pass valve.
They can mix dry hard concrete, elastic concrete, flow concrete, light weight aggregate concrete and various mortars.
Usages of JS Cement Mixer
This cement equipment has high efficiency and used very widely. For example, JS cement mixer can be used in all kinds of precast plant, highways, bridges, civil constructions, water conservancy, harbors and so on.
JS cement mix have good after-sale service: spare parts will be delivered as request and our engineers will go to site for guiding the installation and test-running as request. JS cement mixers have 12 months warranty period since installation and commissioning.
Parameters of JS Cement Mixers:
| | | | | | |
| --- | --- | --- | --- | --- | --- |
| Model | JS500 | JS750 | JS1000 | JS1500 | JS2000 |
| Discharge capacity | 500L | 750L | 1000L | 1500L | 2000L |
| Charging capacity | 800L | 1200L | 1600L | 2400L | 3200L |
| Productivity | 25m3/h | 35m3/h | 50m3/h | 75m3/h | 100m3/h |
| Aggregate size | 60/80mm | 60/80mm | 60/80mm | 60/80mm | 60/80mm |
| Mixing motor power | 18.5kw | 30kw | 37kw | 60kw | 2*37kw |
| Lifting motor power | 5.5kw | 7.5kw | 11kw | 18.5kw | 2*37kw |
| Pump motor power | 0.75kw | 1.1kw | 1.1kw | 1.1kw | 2*37kw |
| Dimensions | 3050*2100*2680 | 3650*2200*2560 | 4640*2250*2750 | 5058*2250*2440 | 5500*2000*2600 |
---
Do not hesitate to contact us ,we value your message