Professional Concrete Mixer Manufacturer

JZD Diesel Concrete Mixer
---
JZD Automatic Promotion Concrete Mixer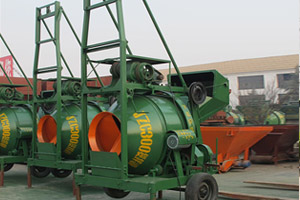 Definition of JZD Automatic Promotion Concrete Mixer
Automatic Promotion Concrete Mixer
is one kind of lifting concrete mixer which is designed on the basis of original
diesel concrete mixer
. lifting cement mixer has an increased self-falling enhance device. Automatic promotion concrete mixer produces mixture for concrete. Lifting cement mixer can mix plasticity and semi-rigid concrete. The mixing drum rotates clockwise during mixing and anticlockwise during discharging. Lifting concrete mixer is a commonly used civilian type of
concrete mixer
, belonging to the lifting type feeding style drum concrete mixer.
JZD automatic promotion concrete mixer
is one kind of more easily used concrete mixer. JZD lifting concrete mixer also has climbing ladder which is able to elevate produced concrete to a certain height, and the degree of automation of JZD automatic promotion concrete mixer is higher. Pioneer JZD
lifting cement mixer
has been favorably commented by the customers.
JZD
lifting concrete mixer
belongs to drum concrete mixer and self-falling concrete mixer. Pioneer is able to offer JZD automatic promotion concrete mixer according to the requirements of buyers.
People can use the lifting cement mixer after wiring up the concrete mixer. Lifting concrete mixer can save time and energy and reduce midway transportation, so lifting concrete mixer is suitably used in middle and low buildings.
Features of Automatic Promotion Concrete Mixer
Through ladder frame of different segments and hoisting machine, lifting cement mixer can transit concrete in lifting bucket to different floors. This will save construction time and manpower, also improve work efficiency and ensure safety. The drum of lifting concrete mixer is driven by ring gear, so it has the advantages of reliable transmission, low noise, low energy consumption, compact structure, smooth operation, high efficiency, etc..
Usages of Automatic Promotion Concrete Mixer
Automatic promotion concrete mixer is suitable for middle and low rise buildings, especially used in field sites and power shortage areas.
The height of lift is 18 meters and raising capacity is 100 liter, thickness of drum is 6-8mm, time of feeding is about 7 seconds, max speed of driving is 10-15 kilometers per hour. The material of lifting frame is ordinary steel. All these information ensures our lifting concrete mixer having good quality.
---
Do not hesitate to contact us ,we value your message