Professional Concrete Mixer Manufacturer

JZM Series Concrete Mixer
---
JZM Mini Concrete Mixer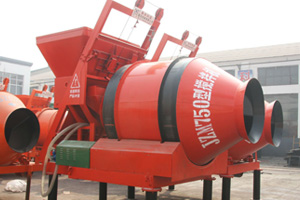 Definition of JZM Mini Concrete Mixer
JZM
mini Concrete Mixer
is a building machine which mixes aggregate, powder, cement, water and additive in the drum. Mini cement mixer is double-conic self-reversing drum mixer. " M " stands for friction. The drum of mini cement mixer is driven by friction wheel. The drum rotates clockwise during mixing and anticlockwise during discharging.
JZM mini concrete mixer
is driven by four rubber tug's friction, so JZM mini concrete mixer has small noise.
Compared with JZC climbing bucket drum concrete mixer, the feeding way of JZM
mixer machine
adopts lifting to feed materials. In order to ensure the efficiency and quality of feeding, the feeding hopper of JZM mini cement mixer has a separate motor, which can guarantee the speed of feeding.
JZM mini cement mixer
can be used with batching machine. Zhengzhou Pioneer Machinery Co., Ltd, one concrete factory, offers JZM350 concrete mixer, JZM500 concrete mixer and JZM750 concrete mixer. Among these JZM mixer machines, JZM350 and JZM500 concrete mixers are mobile concrete mixers and it is convenient to move and use mobile concrete mixers. While, JZM750 concrete mixer belongs to fixed concrete mixer to ensure safe application.
Features of JZM Mini Concrete Mixer
The mixing drum of mini mixer machine has a low line speed and a good wear resistance and low energy consumption. Under the stirring, the material forms a cross concrete stream.
JZM mini concrete mixer can mix plasticity and damp half-dry concrete. JZM mixer machine adopts rubber wheel friction drive, so it has such advantages as low noise, smooth operation, convenient moving and high production efficiency.
Usages of JZM Mini Concrete Mixer
JZM mixer machine is small, so it can be used home and small construction sites. In addition, mini cement mixer is usually used on industrial and civil construction sites, roads, bridges, etc.. JZM mixer machine can work alone.
Keep JZM mini concrete mixer and automatic feeder clean, especially in winter, to prolong the life of mini cement mixer.
Pioneer Machinery Company is a concrete mixing factory, we design and supply mini cement mixer with fabulous mixing quality. Our products have received good feedback from overseas clients.
Parameters of JZM Mini Concrete Mixer
| | | | |
| --- | --- | --- | --- |
| Model | JZM350 | JZM500 | JZM750 |
| Discharge capacity | 350L | 500L | 750L |
| Charge capacity | 560L | 800L | 1200L |
| Productivity | 10-14m3/h | 18-25m3/h | 25-37m3/h |
| Max.aggregate size | 60mm | 70mm | 80mm |
| Mixing Motor Power | 5.5kw | 7.5kw | 11kw |
| Lifting Motor Power | 4.5kw | 5.5kw | 7.5kw |
| Pump Power | 0.55kw | 0.75kw | 0.75kw |
| Drum rotating speed | 14r/min | 13r/min | 12.26r/min |
| Weight | 2000kg | 3100kg | 4200kg |
| Dimensions(L*W*H) | 2766*2140*3000 | 5230*2300*5450 | 5650*2065*3535 |
---
Do not hesitate to contact us ,we value your message