Professional Concrete Mixer Manufacturer

Skip Concrete Batching Plant
---
Skip Type Concrete Mixing Plant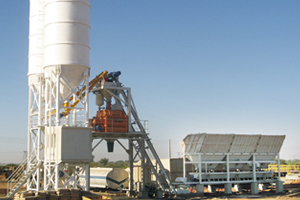 Definition of Skip Type Concrete Mixing Plant
Skip Type Concrete Mixing Plant
belongs to compulsory concrete mixing plant. Skip type concrete mixing plant is composed of aggregate storing and
weighing system
, control system,
concrete mixer
, cement and power material weighing system, additive weighing system, water weighing system,
screw conveyor
, cement silo.
Concrete Mixers
are JS series horizontal double axle forced mixers which has an excellent mixing performance and high efficiency. The
concrete batching plant
measures aggregate through an electronic weighing apparatus which ensures the weighing is high precision. The aggregate can be loaded by the own elevator with stable and longevity. A hopper is used to weigh cement, water and additives and to ensure the measurement is accurate.Water is pressurized by a pump to quickly spray out and mix with aggregate and power in the mixer.
Features of Skip Type Concrete Mixing Plant
Skip type batch mixing plant can produce a variety kinds of good-quality concrete, such as plastic concrete, dry hard concrete and others.
Skip type concrete mixing plant is featured by small floor area coverage and modular design, easy operation, moving from site to site and convenient maintenance.
Different kinds of concrete batching plants have varied characteristics. Users can choose the suitable
batch mixing plant
according to their needs.
There are varied concrete batching plants in the current market, which brings some inconvenience for concrete batching plant users to choose.
As one of
concrete mixing plant manufacturers
, Zhengzhou Pioneer Machinery Co., Ltd will cite some features for comparison:
HZS
skip type concrete mixing plant
covers small floor area. In addition, compared with belt type concrete mixing plant, skip type concrete mixing plant can not well carry out continuous concrete production.
Usages of Skip Type Concrete Mixing Plant
Batch mixing plant is popularly used in water conservancy, electricity projects, roads and other projects.
Pioneer machinery company is concrete mixing plant manufacturer. We supply concrete mixing plant for sale. The productivity of batch mixing plant is 200 sets per year. Mixing blade, blade bolt, mixing arm and clamp are quick -wear parts of concrete mixing plant. We also provide these parts.
Parameters of Skip Type Concrete Mixing Plant
Type
Productivity(m3/h)
Type of mixer
Volume of mixer(m3)
Batching machine
Batching accuracy(%)
Discharging height(m)
Aggregate
Water
Cement
Additive
HZS25
25
JS500
0.5
PLD800
≤± 2
≤±1
≤±1
≤±1
3.8
HZS35
35
JS750
0.75
PLD1200
≤± 2
≤±1
≤±1
≤±1
3.8
HZS50
50
JS1000
1
PLD1600
≤± 2
≤±1
≤±1
≤±1
3.8
HZS75
75
JS1500
1.5
PLD2400
≤± 2
≤±1
≤±1
≤±1
3.8
HZS100
100
JS2000
2
PLD3200
≤± 2
≤±1
≤±1
≤±1
3.8
---
Do not hesitate to contact us ,we value your message